Improving the bottom line with a change from fixed to flexible seating
The Iowa Events Center is a 3-facility entertainment/event complex in downtown Des Moines. It is home to the Wells Fargo Arena, Hy-Vee Hall, and what is now known as the Community Choice Credit Union Convention Center. The goal of the overhaul was a more flexible venue for small to mid-sized events.The Iowa Events Center's 3-facility complex included a vintage, fixed-seat civic auditorium that wasn't very viable anymore. Larger events moved elsewhere in the complex, leaving it hosting only small to mid-sized events.
Polk County felt the aged venue might be able to play an important role in the community again, but it would need to be a more flexible, dynamic space and complement the other two venues in the complex. So the search began for a seating solution that would provide the flexibility they needed, attract new events, and improve operating profits.
Starting with a MAXAM portable bleacher system, Hussey created a modular A/B system to easily make complete, code-compliant, safe bleachers of nearly any size from 70 to 4200 seats. Unlike most modular portable systems, A & B sections can mix and match to build a variety of configurations. This eliminates complex storage pre-planning, unnecessary unit movement during changeovers, and offers endless daisy-chaining flexibility.
All of the 39 units have ADA spaces for flexible code compliance. Hussy designed shorter 8-row height units to fit on the small service elevator and be moved to the meeting rooms or the grand ballroom, as well as to fit under the low ceiling of Hall A.
The compactness of the closed units means they can be stored as needed – either in main storage areas or tucked into small nooks out of the way just for a day or two. In addition to adding forklift tubes to each section, Hussey provided rolling storage carts for the units to aid movement in tight quarters. Safety rails and end curtains store on each section, so everything is right there during set up.
THE PAYOFF
Now the Iowa Events Center can host virtually any event - from boxing to cooking shows, conferences to gymnastic meets and ballroom dancing competitions. The bleachers give many more options to event organizers; their flexible capacities combine with the new range of facility space options to make the IEC right-sized, no matter what the event. "It's been a huge game changer," says Bill Shaw, Director of Operations, "in the number of events and amount of revenue we've generated."
Shaw's biggest goal was saving on operations costs, "The bleacher system that we've created I think dramatically helps us with that. It used to take 6 guys 4 hours to set up a basic set, where now we can do it with 2 guys in 2 hours. That means the new system takes only 1/5th the labor - saving thousands of hours of labor per year and paying for itself very quickly!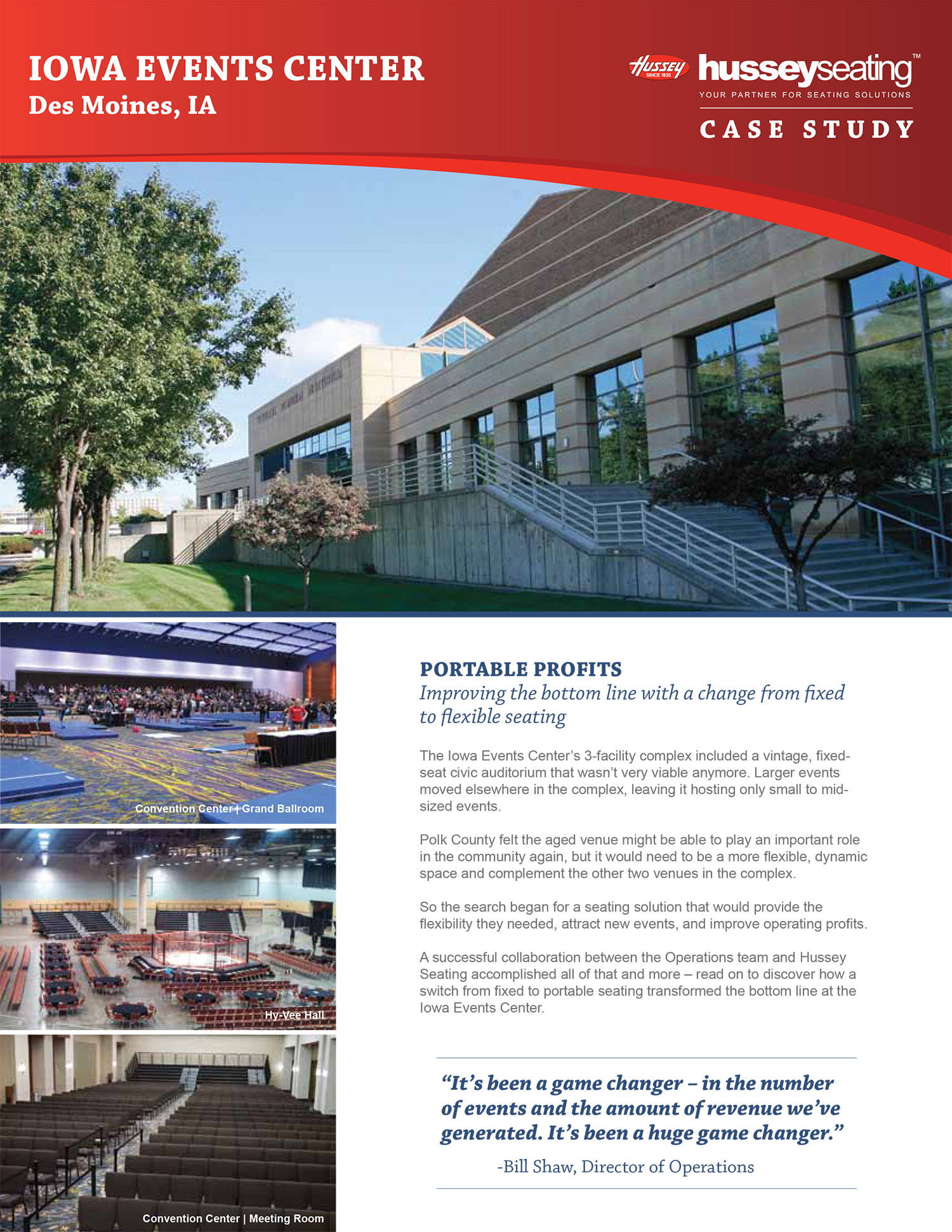 ---